When you're on holiday and have taken your beloved Mac with you, there's often nothing better than catching up on a bit of British telly on the BBC iPlayer or even using a dedicated app. But how can you watch live and on-demand TV abroad and also circumvent the rather annoying geo-blocking techniques that broadcasters often employ to stop you watching?
This article discusses some of the ways in which you can happily watch the latest episode of Eastenders, Have I Got News For You or even Snog Marry Avoid from the comfort of a tropical island.

---
---
1. Web Content Over VPN
You might assume that you can watch the iPlayer or other web-based TV players when abroad just like you can in the UK; however, that's often not the case because the broadcasters usually block streaming video abroad due to rights restrictions regarding who is allowed to watch the content. The simplest way to get around this limitation (after all, you've already paid for a UK TV license, right?) is to install virtual private network (VPN) software which lets you connect to a third-party server and makes it look to the external world that your computer is actually located in the UK.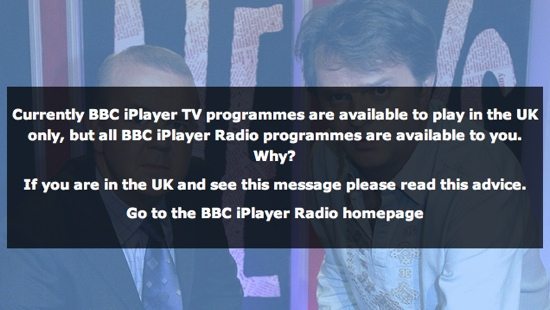 There are many good VPN services available for the Mac (see below – usually less than £5). Most VPN providers also let you choose the country that you want to appear as you're connecting from, such as the UK or the US, and data is encrypted end-to-end so that nobody can snoop upon your connection. There is an in-built VPN section under the Mac's network settings, though many providers have an app available that makes the whole process of configuration much easier.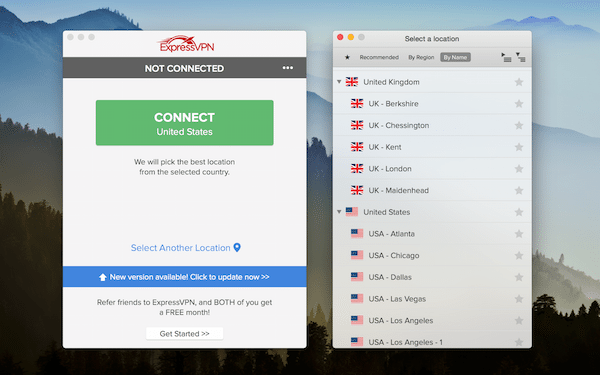 Here are a few recommended VPN services:
Once you've setup and configured your VPN, you'll be able to go to regular sites in the UK such as the BBC iPlayer and 4OD.
---
2. Apple TV and iTunes
Admittedly, it's not exactly watching TV on your Mac, but the Apple TV is so small and convenient to take abroad that it's definitely one of the easiest ways to watch UK TV and movies when abroad. All you need is a UK Apple ID, then you can easily connect to the iTunes store as normal and watch any content regardless of the country you're in. There is no geo-blocking either so you can view any UK content in iTunes just like you can on your computer when abroad. Unfortunately, there isn't any live TV only on-demand content, but it's the next best thing.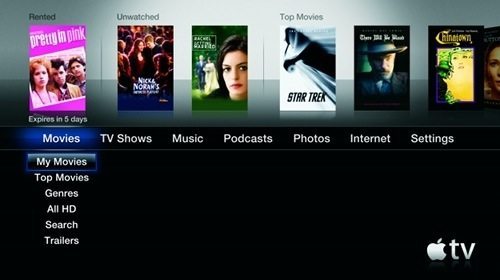 The Apple TV does require a decent broadband connection (at least 2 Mbps for standard definition content or 4 Mbps or higher for high-definition content) otherwise it'll make you wait an hour or longer to buffer the movies whilst you wait, which can be rather annoying. An Apple TV costs less than £100 in the UK, and is certainly one of the best options to watch TV in another country. Note that it only has an HDMI output so you'll need an HDTV with an appropriate input connection.
---
3. Dedicated Apps
There are a couple of live TV apps on the App Store, some of which allow you to watch TV unrestricted from anywhere in the world. The first of these is LiveTV (£3.99) but unfortunately only French TV is available. Still, it makes a change from some of the dross that's on offer in other countries, and if you've remembered your GCSE French you might understand half of what they're talking about. LiveTV even has an EPG and time-shift support (meaning you can pause live TV and resume at any time) and features around 15 channels. FashionTV is probably the best, because you can watch the catwalk models with the sound turned off.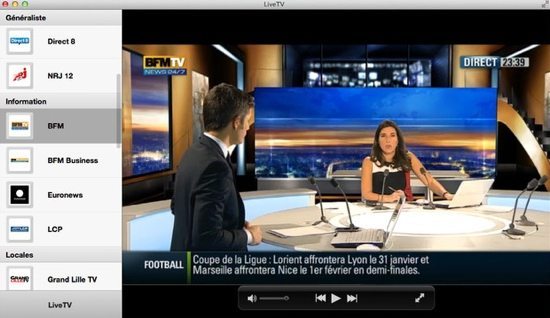 There are also a few other App Store apps that you watch Brazilian TV, German TV and even Argentinian TV, but there's probably not much of interest on those services, save perhaps MTV.
---
4. SlingBox
Price: £99.99 (Solo) / £219.99 (Pro HD)
The SlingBox is one of the best ways to watch TV abroad without being blocked. It basically connects to your TV and video sources back home, and through the Mac app you connect to it and stream whatever you've got connected (or use the built-in Freeview tuner in the Pro HD model). The only downside is that you need to have it always hooked up to your AV kit back home, so it's probably not suitable if you're going on a round-the-world tour and have sold your worldly goods on EBay (unless you can persuade a friend to look after it for you).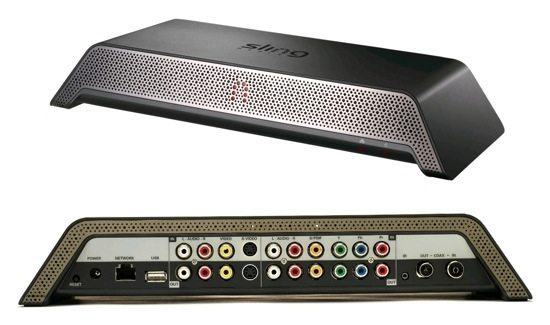 Nevertheless, for many people, the SlingBox is an excellent way to watch British TV. You can watch on the Mac, or view it on your iPad and iPhone with the SlingPlayer Mobile app – which costs a further £20.99.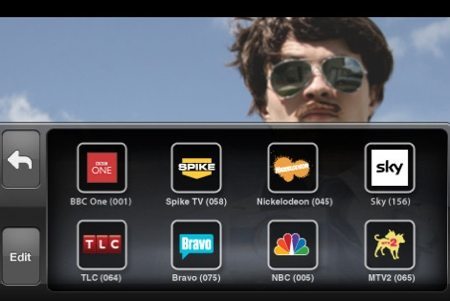 ---
5. Browser Proxy Server
Another way to watch web TV abroad is to use a proxy server, which acts as an intermediary between your computer and whatever you're trying to look at. There are numerous free proxy servers, but it's worth paying the small fees for one in order to get the best customer service and reliability. A proxy can be configured on all browsers including Safari, and the setup process is very simple.
The first thing to do is to find a proxy service (such as XROXY – who also has a free trial available), then choose the country of the proxy server you want to use (i.e. the UK, but you could also select the USA to watch US-based web TV channels) and select the subscription period. Once you've paid the fee and registered, you should be emailed the server details, username and subscription details which you'll need when you setup your browser.
The next step is to go to System Preferences and then select Network. In the left panel select WiFi or Ethernet (whichever you're using to access the Internet) and click the Advanced button. At the next screen, select the Proxies tab and choose Web Proxy (HTTP) from the list on the left. Now just enter the server and port details provided to you into the Web Proxy Server, Username and Password fields. Repeat the process for Secure Web Proxy (HTTPS) and then hit OK. You should then check if your browser thinks you're in a different country, for example by going to www.google.com and check whether you're redirected to www.google.co.uk automatically.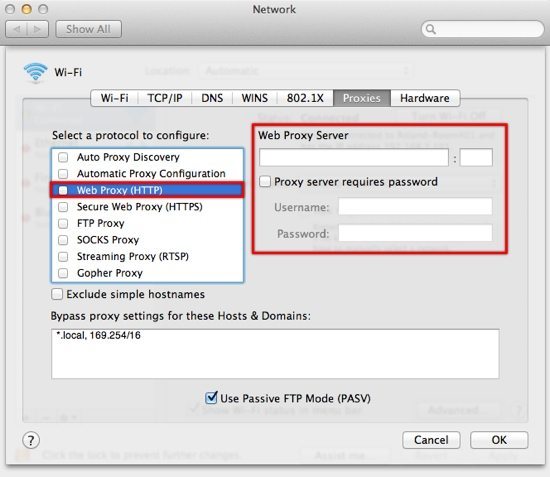 If that all works, you're now ready to use any of the online web-based TV services such as 4oD, iPlayer and ITV Player.
Before you go
After spending over 20 years working with Macs, both old and new, theres a tool I think would be useful to every Mac owner who is experiencing performance issues.
CleanMyMac is highest rated all-round cleaning app for the Mac, it can quickly diagnose and solve a whole plethora of common (but sometimes tedious to fix) issues at the click of a button. It also just happens to resolve many of the issues covered in the speed up section of this site, so Download CleanMyMac to get your Mac back up to speed today.