You know what it's like when you've got a wallet stuffed full of scrunched up receipts – it can be pretty hard to keep track of everything you've spent, especially if you need to use the receipts for expense reports.
This collection of handy iPhone apps let you stay on top of your finances on the move, without having to worry about losing anything…

---
ExpenseMagic
Details: iTunes
Price: FREE (in-app purchases apply)
ExpenseMagic not only lets you enter tonnes of details about your receipts, but it's also geared up towards business expenses such as the ability to generate a detailed monthly expense report. Everything can be entered manually or even detected automatically, and you can share the information with cloud services such as Dropbox and Evernote. ExpenseMagic is one of the most popular finance apps in the App Store, so it's well worth a look.
The app is free to download and install,  but in-app purchases are necessary to use its full functionality.
ExpenseMagic takes the hassle out of keeping track of those pesky receipts
---
Quick Receipt X
Details: iTunes
Price: £0.69 (the Pro version is a £1.49 in-app purchase)
Quick Receipt X organise and tracks all your receipts and expenses with minimal effort. Just take a picture of any receipt and save it in the app, and additional information can be added later. Every receipt can be stored with up to 3 photos to make sure you've capture all the details (some of those receipts are long!). Receipts can be sorted in several ways such as by amount, category, and date. There's a pie chart breakdown which displays your expenditure by category.
It's only possible to save 5 receipts with this version, so the Pro version (which is a £1.49 in-app purchase) is recommended if you find it fulfils your needs.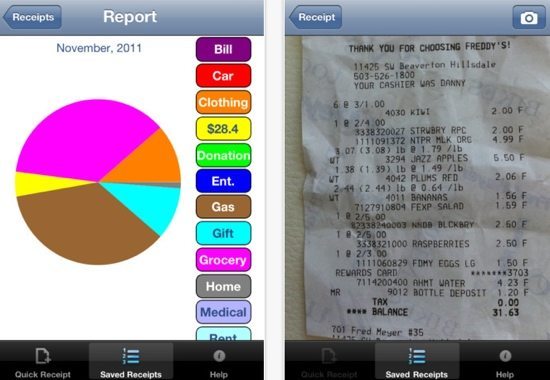 ---
Receipts
Details: iTunes
Price: £1.49
Like many of the receipt and expenses apps, Receipts can also take a picture of a receipt. However, it takes care of the rest automatically by recognising key details on the receipt itself such as the amount (no Internet connection is required) and the location. You can switch between currencies quickly (handy if you're going on a trip abroad) and view expenses totals for a given category. A very nice touch is being able to view expenditure by location using the built-in map, as well as AirPrint (and email) to print and export to other applications or for reports.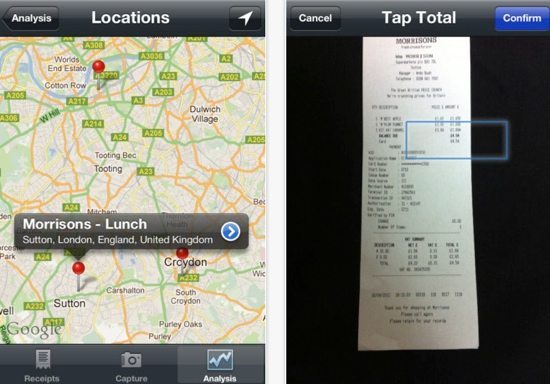 ---
Receipt Catcher
Details: iTunes
Price: £0.69
Receipt Catcher has a wealth of capabilities designed to help you get the most from your receipts. All the usual features are there such as receipt scanning (plus the ability to crop the images), categorisation of all your outgoings (and you can even define your own categories), and a built-in currency convertor so it can be used anywhere in the world. If you regularly submit expenses, it will let you output them in A4/US legal page sizes (which is handy when submitting expenses which usually need to be laid out and stapled to paper), and you can email reports or print everything over Wi-Fi.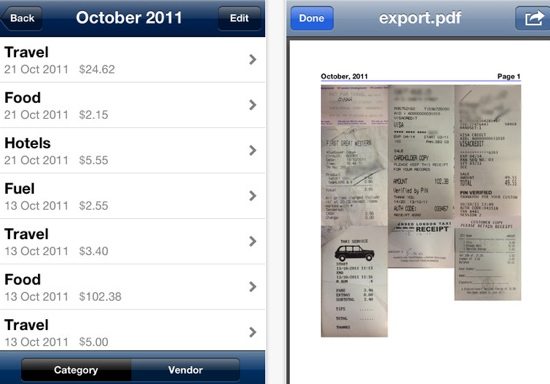 ---
Receipts Pro
Details: iTunes
Price: £2.99
This app really deserves the Pro name, because it has the most extensive features of any of the apps listed. You can create multiple accounts to manage groups of receipts (for example personal, business, and holidays), and define your own additional categories. It's easy to customise any of the information recorded, such as adding extra fields for local taxes and anything else, as well as the ability to record car mileage in miles or kilometres.
Besides capturing photo receipts you can also crop, rotate and scale them and even adjust the brightness, contrast and saturation – probably the only receipts app which lets you do that! Add a voice memo to a receipt and of course export (via Mail or Wi-Fi) and print any item as PDF, CSV or Excel. There's an extensive set of built-in overview graphs, and cloud support to sync with DropBox, Evernote, Google Docs and more. Not forgetting about security, you can password protect all your sensitive financial data.
If you don't mind the price, this is definitely one of the best apps in the list.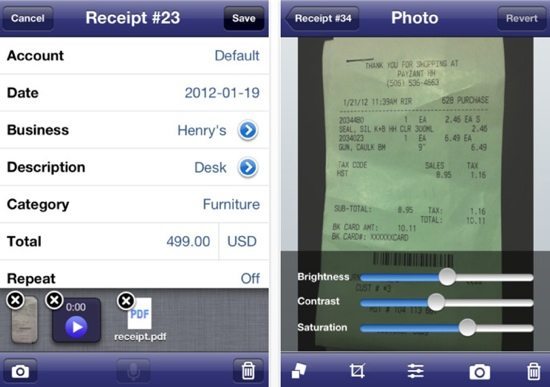 ---
Shoeboxed
Details: iTunes
Price: FREE (10 credit bundle £2.99 in-app purchase)
Shoeboxed stores and organises your receipts as pictures but the app determines the date, totals, payment types and category for you. The focus is on simplicity and ease of use, and the ability to generate details reports that can be exported to popular financial applications such as QuickBooks, Quicken, and Excel.
All you need to do is snap a picture of the receipt – all the data is automatically extracted and it's uploaded to the Shoeboxed online file management system and available on your iPhone, but you can also view everything on the website from anywhere.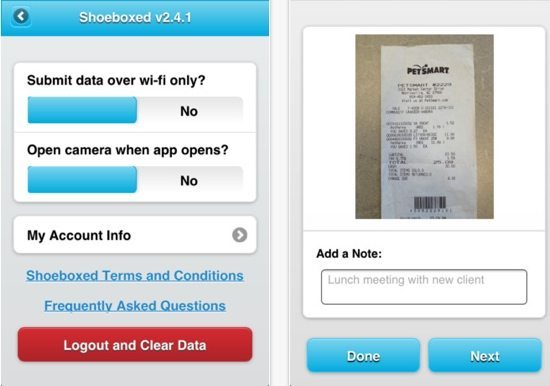 Before you go
After spending over 20 years working with Macs, both old and new, theres a tool I think would be useful to every Mac owner who is experiencing performance issues.
CleanMyMac is highest rated all-round cleaning app for the Mac, it can quickly diagnose and solve a whole plethora of common (but sometimes tedious to fix) issues at the click of a button. It also just happens to resolve many of the issues covered in the speed up section of this site, so Download CleanMyMac to get your Mac back up to speed today.