The Mac has always enjoyed a decent reputation for photo editing and manipulation amongst consumers and professionals alike. Whether you're a graphic designer or simply an enthusiastic amateur who enjoys touching up and manipulating photos, there are dozens of applications for the Mac which can help you to achieve superb results.

The granddaddy of all the image manipulation apps has to be Adobe Photoshop, which has even entered the common vernacular as a verb; how many times have you heard people say "I'll Photoshop it later…"?
This article describes some of the best photo and image editing apps available for the Mac. Every application mentioned is available through the Mac App Store.
---
What to Look For in an Image Editing Application
A decent image editor is an essential application to have on your Mac, but they don't all offer identical functionality and some are vastly superior in terms of the features and capabilities. Look for an image editing suite that offers some or all of the following features, depending on your individual needs:
Ease of use – most people aren't professional designers and so they need software that can be picked up quickly without having too steep a learning curve. Especially if you only use such a programme occasionally, it can be quite frustrating searching for the right feature from the sometimes bewildering array of icons and menus
Editing – probably the most important feature is what editing tools are included. Pretty much all photo apps will include the basics such as the ability to crop and re-size images, but you should also consider whether any more advanced editing tools are provided. For example, the ability to alter brightness and contrast, or to add text and work with multiple layers. The list is almost endless, and there are also hundreds of unique filters and effects to enhance your images. The best photo apps usually give sufficient manual control over all the tools, but should come with an automatic mode as well for near-instant results
Importing – it should of course be possible to open images on your Mac's hard disk, but do you need an application that can import from your digital camera or a scanner? The list of image formats supported is usually more greater with the better apps, which will allow you to manipulate some of the more obscure image formats
Exporting – every photo app should be able to export to common formats such as GIF, JPG and PNG, but additional format support can be a benefit as you won't need to rely on additional converters. The majority of image editing apps support an extensive array of formats, but can be handy if they allow a more control over the export options – such as being able to set the amount of compression (which affects the picture quality) on JPG files
Sharing – built-in photo sharing options can save you the hassle of exporting photos and attaching them to emails when you want to share your best snaps with friends. Most photo apps allow you to share your prized pics directly to sites such as Picasa, Facebook and Flickr; not all do however, so check carefully if this feature is important to you
Organising – some apps enable you to organise photos within the app itself, which can help you keep track of your files in folders and albums, and means that you don't need to use Finder to keep them organised. Many people prefer to use iPhoto however (and even it's simple editing tools), but it's certainly an added bonus if there are some kind of cataloguing, tagging and organisational tools in the app
Help and tutorials – every decent photo app should provide built-in (or online) help files and tutorials, and it's an added bonus if there's a help section or forum on their website, and email details so they can be contacted for any support queries
1. Pixelmator
Links: Mac App Store, Pixelmator website
Price: £20.99 (App Store version)
Pixelmator has proven to be one of the very best and most popular image editing apps on the Mac since the App Store was launched. The price is quite irresistible considering what you get in the package. There are all the usual tools such as cropping, paintbrushes, text, shapes and so on, plus the ability to create multiple layers and work on them individually.
There are hundreds of built-in image filters available such as various blurring and sharpening tools to stylisations and tile functions. The user interface is fairly intuitive – the tools are all floating menus which can be moved around or hidden, and it's fully compatible with Lion's fullscreen mode so you can work on a photo without other distractions. I personally use Pixelmator for the majority of my image manipulation and have found that it's a very capable software package indeed.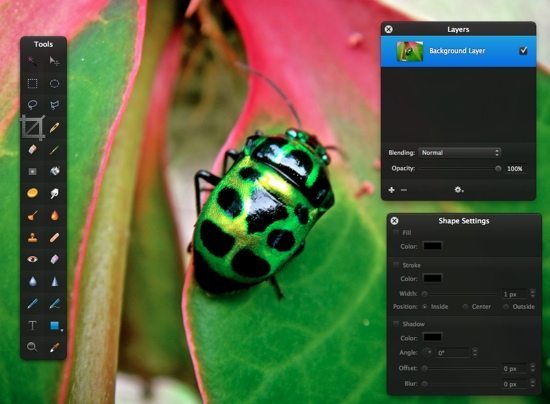 2. Acorn
Links: Mac App Store, Flying Meat website
Price: £34.99
Acorn emphasises simplicity, because as the developers quite rightly point out, not everyone has the time to learn to use some of the more complicated image editing programs. Acorn keeps it simple with just one palette visible that keeps things uncluttered and easy to navigate. They haven't skimped on features though because you can create multiple layers each with it's own objects and images. Layers are definitely one of the most useful features in any photo editing app.
There are also a good selection of text and drawing tools, and lots of filters to create weird and interesting effects. You can also use vector shapes (e.g. squares, circles and lines) and your final masterpiece can be exported into multiple formats. The export to web option is a rather convenient way to save pictures at the best size and format to view on the Internet.
Acorn includes lots of of tutorials and online documentation (as well as a forum) – you probably won't need to use them but it's an invaluable resource if you need help.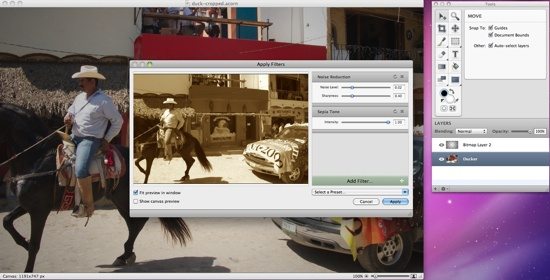 3. Aperture 3
Links: Mac App Store, Aperture website
Price: £54.99
Aperture is unashamedly aimed mainly at professionals and keen amateurs who want to import and organise photos, as well as touch-ups and editing. The latest release has much more powerful photo editing and organising tools, and runs fully in 64-bit mode for optimum performance. Previous versions of Aperture were considered to be quite challenging to learn especially for novices, but this version is thankfully considerably easier to use.
Just like iPhoto, Aperture can recognise faces, places (if you took a picture with GPS-enabled camera or phone) and can share your pics to websites like Facebook and Flickr (almost de riguer functionality these days!). The toolset is quite extensive, but Aperture can also organise and manage very large numbers of pictures and store them in specific albums – the photo management side of things is definitely one of Aperture's key strengths compared to most photo apps. Apple hasn't forgotten about filters and effects either – there are lots of preset image effects included as standard. Aperture can import, organise and playback video too, either video camera footage or video from regular still cameras recorded in HD. Unsurprisingly, there are masses of videos, tutorials and online help in case you get stuck.
In summary, Aperture is one of the very best photo and image editing apps on the Mac, and if the price and relative complexity doesn't put you off it's worth spending the time and effort to learn how to use it properly.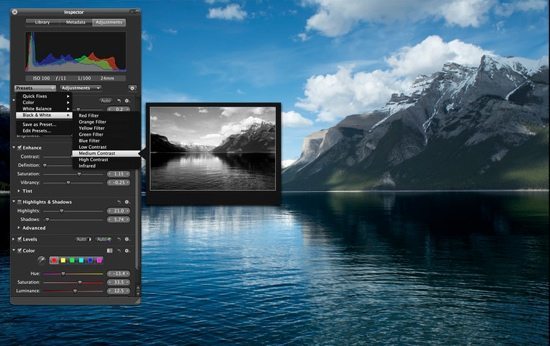 4. FX Photo Studio Pro
Links: Mac App Store, Macphun website
Price: £27.99
FX Photo Studio Pro boasts a massive 172 photo effects, 20 frames and dozens of editing tools that you can use to manipulate your photos in all sorts of weird and wonderful ways. As the name suggests, it's aim is to let you apply all sorts of interesting effects to your shots, but there are also sufficient image editing tools and advanced colour controls to make this app stand out from the crowd.
However, the effects are where FX Photo Studio Pro really excels – try out Grunge, Hollywood FX and Lo-Fi for a start. The editing tools themselves are as expected; the usual controls are available such as those to adjust exposure, brightness, contrast, shadows, highlights and colour levels. In terms of import and export capabilities, you can import directly from Aperture or your existing iPhoto library, and your Mac's hard disk or digital camera. Export formats supported include iPhoto, Lightroom, Aperture and Photoshop, plus all the usual web ones. And just like the other apps mentioned, the ability to share and upload photos to Facebook, Tumblr, Flickr and Twitter is built in, making sharing incredibly easy.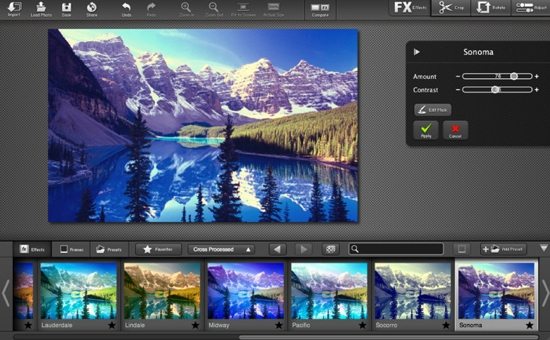 5. iMage Tools
Links: Mac App Store, IcyBlaze website
Price: FREE
iMage Tools is intended for less experienced users who don't have sufficient time to grapple with complicated menus and confusing terminology, and best of all it's completely free! Currently one of the most popular photo editing apps in the App Store, iMage Tools can in fact do what most of the paid-for apps charge for.
You can work with most common image types (such as JPG, PNG, TIFF, BMP and PSD), resize them, rotate and flip, insert watermarks, and add text to name just a few of its features. Some considerable thought has gone into the attractive interface, which should appeal to anyone that wants to get the job done without wading through masses of user manuals. Despite being free, some of the features can only be unlocked by in-app purchases – for example watermarks, strokes and shadows are all priced at a reasonable 69 pence.
If you're relatively new to photo editing and want to experiment a little, you could do a lot worse than download this very capable free app.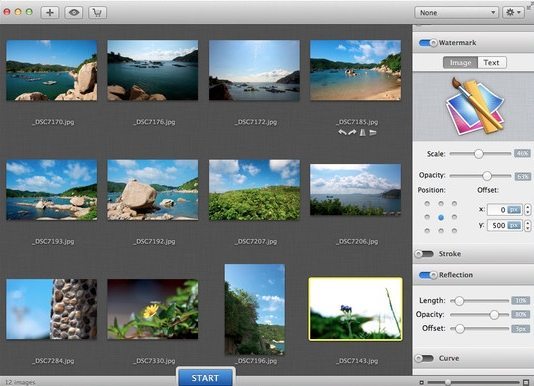 [wp_ad_camp_4]
---
Before you go
After spending over 20 years working with Macs, both old and new, theres a tool I think would be useful to every Mac owner who is experiencing performance issues.
CleanMyMac is highest rated all-round cleaning app for the Mac, it can quickly diagnose and solve a whole plethora of common (but sometimes tedious to fix) issues at the click of a button. It also just happens to resolve many of the issues covered in the speed up section of this site, so Download CleanMyMac to get your Mac back up to speed today.