Nowadays it's extremely easy to catch up on your favourite TV programmes on your Mac; whether it's watching live BBC channels on the web or using standalone players obtained via the App Store, there's plenty to keep you entertained.
There are a few important points to remember though – some of these live TV channels aren't available outside of your home country due to licensing restrictions (for example, you can't easily watch the BBC iPlayer abroad without a few sneaky workarounds), and secondly you may need a subscription for some of them to work – such as the Sky Go player which depends on an existing Sky TV subscription.
In terms of the bandwidth required, live TV does require a moderately good web connection – anything less than 1 or 2 Mbps just won't cut it, as you're likely to experience interrupted playback and constant re-buffering. The best players provide adaptive streaming technologies that can deliver multiple bandwidth versions of the content; the best bit-rate for your connection speed will be used (for example 800 kbps, 2 Mbps, or 5 Mbps), but obviously the faster your Internet connection the better.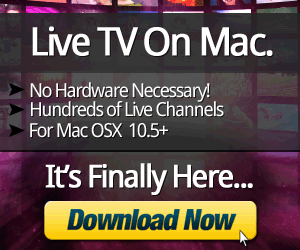 ---
1. Satellite Direct – Now on the Mac!
Details: SatelliteDirect.com
Satellite Direct offers over 3,500 live channels. The application costs a one time fee of $49.95 and there are no monthly subscriptions to pay. Just install the application and you've got access to all the channels on offer in an elegant user interface that also lets you assign channels as favourites and categorise them. Download Satellite Direct here.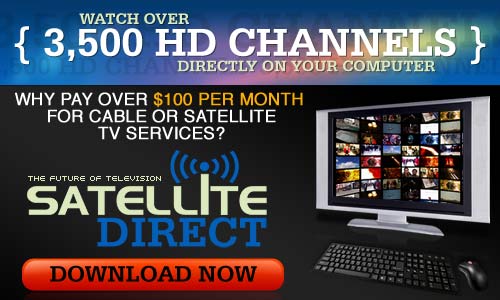 Key Features:
No Hardware to Install
You Get Over 3500 Channels
You Get 24/7 Unlimited Access
No Subscriptions or Monthly Fees
No Bandwidth Limits
Now Available for the Mac
---
2. MacTVision
Details: MacTVision website
The MacTVision application costs $39.95 and includes a large suite of streaming movies, videos, news, and radio. Like many of the TV apps, there are no monthly fees once you've obtained a license, and it's compatible with Mac OS X 10.4 and above. Moreover, it also works in the US, Canada, Japan, Australia and most EU countries.
---
3. Web-Based Players
It seems that every TV station has its own web-based player for online video streaming. In the UK, there are several very popular web TV players such as the BBC iPlayer, the Channel 4 4OD website, and the ITV Player. Each of these has a huge selection of their respective channel's on-demand content as well as live channels, and require nothing more than pointing your web browser at their site (most of them are implemented in Flash, Silverlight or HTML5).
The BBC iPlayer for instance provides dozens of radio and TV channels – for example BBC One, BBC Two, BBC Three, BBC Four, BBC News and BBC HD in hi-res.
The ITV Player includes ITV 1, ITV 2, ITV 3 and ITV 4, as well as the kids' channel CITV. You need never miss an episode of Britain's Got Talent again. There are also live feeds of some of the channels.
The 4OD website gives access to content from Channel 4, Film4, E4, More4 and 4Music. Everything is available on-demand and there is also some live content. Just like the other UK websites mentioned, if you're outside of the UK it's not officially possible to view the channels with circumventing the geo-blocking – for example by using a Virtual Private Network (VPN) which costs just a few dollars a month.
---
4. Zattoo
Details: Zattoo website
Zattoo is a live TV service available in Switzerland, Denmark, Spain, Germany, the UK and France. There is a huge list of channels (and more than 100 live ones), but they're restricted to users based on geographic location, and in the UK unfortunately there aren't many channels – the BBC's channels are not available, for example. You can use Zattoo on the Mac, iPad and iPhone, and there's a handy electronic programme guide and up to 30 days' catch-up for all content. UK channels include Channel 4, E4, Film 4, Channel 5, More 4, and Sky News.
---
5. TV-FOX
Details: Mozilla website
TV-Fox is an add-on for the Firefox browser which lets you watch TV from within your browser. There are more than 2,500 channels, presented in a list sorted by country and category.
TV-Fox requires the Windows Media Player, but you should still be able to watch on a Mac if you install the Flip4Mac plugin (which let's you watch Windows Media content using QuickTime). Once the add-on is installed, you'll see various TV screens shown in the browser – one icon displays the channels by country, the other by category. There are of course lots of channels that may not be of interest, but there are also some pretty good ones such as Sci-Fi Movies, NBC, and CBS.
---
6. LiveTV
Details: LiveTV website
LiveTV is one of the few TV apps available for download in the Mac App Store. The channels are mainly French (such as Direct 8, Euronews, Fashion TV and Men's Up TV), but it costs just £3.99. Thankfully, content is available anywhere in the world and there is no geo-blocking. There's also time-shifting, fullscreen capability (in Mac OS X Lion), and a comprehensive electronic programme guide. If you don't understand French, you can always just watch Fashion TV with the sound turned down.
---
7. Sky Go
Details: Sky website
Sky Go relies on an existing Sky TV subscription, but there are dozens of free and premium channels such as Sky Movies, Sky Sports, and Nat Geo. Unfortunately, it doesn't work abroad unless you use a VPN to fool it into thinking you're in the UK. For anyone that's already got a Sky TV subscription, it's a worthy purchase and streams live content to both the PC and Mac using the Silverlight plug-in (in other words, it's not necessary to install an application). There's also an app available for the iPhone and iPad, so you need never miss your favourite shows when you're out and about.
---
8. External DVB Tuners
In addition to the software solutions already mentioned, there are also a proliferation of hardware-based tuners and dongles to watch free-to-view broadcast TV that's available in your local area. Essentially, this just turns your Mac into a set-top box, but the best ones also provide electronic programme guides and hard-disk recording so you can view the content at a later time.
Just two of the inexpensive solutions available include:
TVMini2 by Miglia
The beauty of these external USB adaptors is their diminutive size and convenience, plus the fact that that you can pick up all the free-to-air DVB (digital) TV channels pretty much anywhere.