Sometimes when you download a piece of software, you get the choice to download the 32-bit version or the 64-bit version. For Mac users, this choice is about to become a thing of the past, as High Sierra has the honour of being the last release of macOS that supports 32-bit "without compromises."
As of January 2018, the App Store is no longer accepting new apps, or updates to existing apps in 32-bit format. While 32-bit apps do currently run on macOS, Apple plans to remove the 32-bit compatibility libraries from macOS, at which point all 32-bit apps will cease to work on your Mac.
This shouldn't present a problem for 32-bit apps that are still being actively updated, as developers have plenty of time to make the switch before Apple pulls the plug on 32-bit. However, it's best to take a proactive approach and check whether you're using any 32-bit apps – you definitely don't want to sit down at your Mac one day only to discover that the app you've relied on for years, has suddenly stopped working.
In this article, I'll be sharing a quick and easy way to check whether any of your apps are lagging behind in 32-bit format. I'll also be sharing some tips on what you should do, if you discover that your favourite apps are approaching the end of their 32-bit shelf life.
---
How to check your Mac for 32-bit apps
If you launch an app, only to be greeted by a "(insert-app-name-here) is not optimized for your Mac" popup, then you'll know you have a 32-bit app on your hands.
Thankfully, you don't have to go to the effort of launching every single app, just to see whether it triggers this dialogue. You can put all your apps to the test, using your Mac's 'System Report.'
Click the 'Apple' logo in your Mac's menu bar.
Select 'About This Mac.'
Click the 'System Report…' button.
In the left-hand menu, select 'Software > Applications.' After a few moments, the System Report window will display a list of all the apps that are installed across your machine.
Scroll to the right, and you'll find a column labelled '64-Bit,' which gives you a simple 'Yes' or 'No' answer regarding whether this app is 64-bit. Scroll through this list, and if you spot an app that's marked 'No' then you'll know that it's 32-bit, and may therefore stop working correctly after macOS High Sierra.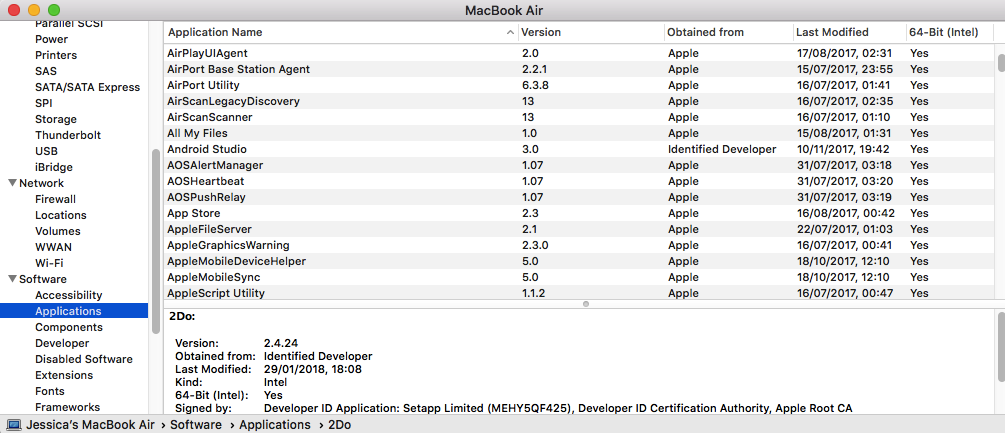 My favourite app is still 32-bit! What should I do?
If you discover that one or more apps haven't made the switch to the 64-bit future, then there's several steps you can take, to ensure that when Apple does drop 32-bit support you don't suddenly lose access to a bunch of apps.
1. Are you running the latest version?
As of January 2018, developers can only publish 64-bit updates to the App Store, so if you're behind with your updates then the app may have already switched to 64-bits.
To make sure you're running the latest version of all your apps, launch the App Store, select the 'Updates' button, and then install any available updates. For applications that you installed outside of the App Store, check the app's website for any updates, or launch the app itself and look for an option to update it, such as a popup or menu item.
2. Is the app still being developed?
Sometimes, developers won't inform their audience when they abandon an app. In particular, developers are unlikely to inform their users if the app in question is free, or if it was a small, personal project that they worked on in their spare time.
To decipher whether a particular app is still under active development, you should start by taking a look at that application's App Store listing or website, to see how much time has passed since the last update. If the person or organisation behind the app has any kind of social media presence, then you should also check how active they are on those channels. If an app's Twitter account is still putting out regular tweets, then chances are the next update is just delayed, rather than permanently delayed.
If the app hasn't been updated in a while, and all the sites and channels associated with that app have fallen silent, then it's looking increasingly likely that the app has been abandoned. In this scenario, you may want to start looking for an alternative app to fill the gap this application will leave behind once Apple drop 32-bit support. With so many apps out there, it's unlikely the app will be completely irreplaceable – and you may even find one that's an improvement on the original!
If in doubt, it's always worth reaching out to the app's creators to see whether they plan to release a 64-bit update. If the app has a website or blog, then look for a 'Contact Us' page, or try sending the company or developer a (polite!) message via social media.
3. Don't update!
While running the latest version of macOS gives you the greatest protection against viruses, malware and exploits, there's no rule that states you have to install the latest version of macOS as soon as it's released.
While it's not a permanent solution, if you're halfway through an important project and can't afford to lose access to your favourite app, then you can buy yourself some time by not installing the macOS update straight away.
If you do decide to put off updating to the latest and greatest version of macOS, then it's recommended you take some additional steps to ensure you remain protected against malware.
Before you go
After spending over 20 years working with Macs, both old and new, theres a tool I think would be useful to every Mac owner who is experiencing performance issues.
CleanMyMac is highest rated all-round cleaning app for the Mac, it can quickly diagnose and solve a whole plethora of common (but sometimes tedious to fix) issues at the click of a button. It also just happens to resolve many of the issues covered in the speed up section of this site, so Download CleanMyMac to get your Mac back up to speed today.