With every new release of OS X comes a new and improved version of Safari. It's already one of the best and fastest browsers available today, and Safari 7 brings a host of new features such as plug-in management, a new Top Sites, and some under-the-hood performance improvements that make your browsing experience that much smoother and more seamless. For example, every tab now runs in its own system process, which means that any website that might cause Safari to crash will be self-contained and won't affect the application as a whole. It's also snappier and seems much quicker – likely due to Javascript performance improvements in the new version of WebKit – the underlying engine used by Safari.

Here's a brief rundown of the new features and improvements you can expect to see in the latest version:
---
1. New Sidebar
There's a new look sidebar in Safari, which is much more convenient and easy to use than previous versions. Clicking on the Sidebar button (which still looks like the old Bookmarks button) slides it in from the left. There are now 3 sections, which can be selected by the relevant icon at the top of the sidebar:
Bookmarks
Reading List
Shared Links
The Bookmarks section lists any bookmarks that you've added (via Cmd-D or from the Bookmarks menu) in a hierarchical folder structure. You can also move and re-organise them any way you want simply by dragging and moving into the correct place. The old bookmarks view is still accessible however (choose Edit Bookmarks from the Bookmark menu or just use Alt-Cmd-B).
With everything accessible all in one place, the new Sidebar is slicker and easier to use, but the bookmarks themselves act just like you'd expect.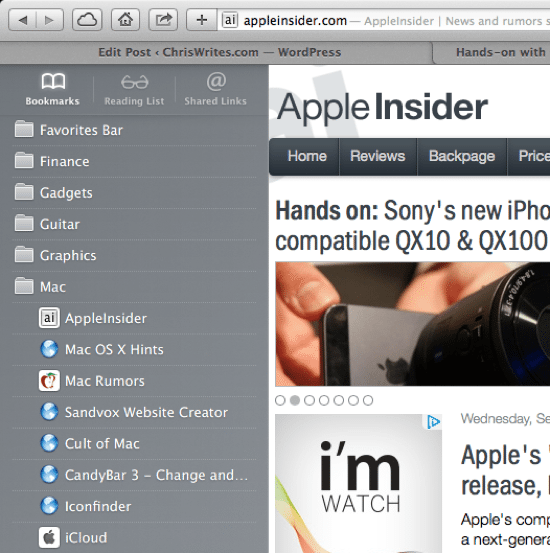 2. Reading List
Reading list itself is not a new feature, but it now benefits from being more accessible under the Sidebar menu next to bookmarks. When adding a bookmark, they automatically get added to your reading list in chronological order. With a scroll downwards, you can bring into view buttons to filter by All or Unread, as well as a search box to filter them even further.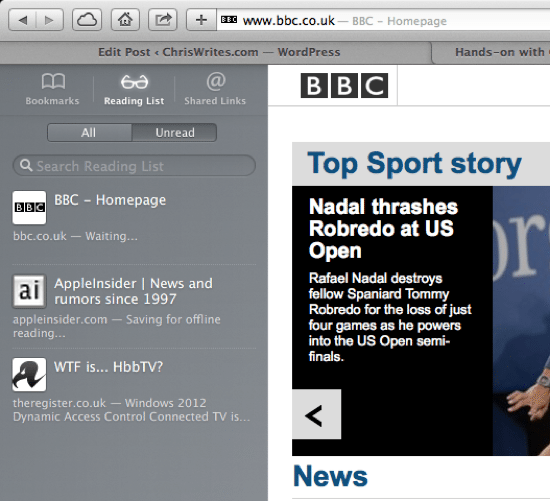 Perhaps the nicest feature about the new Reading List however, is the continuous scroll feature. Simply choose any item in the list (which then appears in the main page), then scroll to the bottom of the website. Keep scrolling and you'll notice that the next article in your reading list automatically comes into view. This really makes using it that much easier, saving the need to keep going back to the list all the time.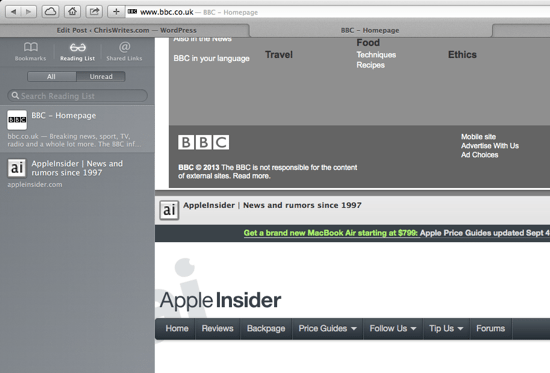 3. New Top Sites
There is a new Top Sites page (accessible via the grid icon on the Favourites Bar) with a slightly tweaked look. Gone is the old curved style and in comes a rigid grid that looks a whole lot smarter. You can drag the items around, pin them or delete them as top sites forever.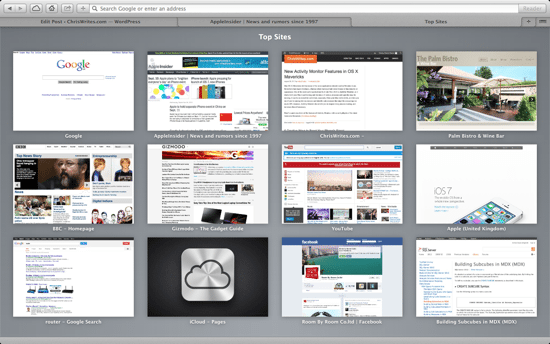 Clicking on any item takes you right to the page, but you can also control how many items are displayed in the grid from Safari's Preferences under the General tab as shown below.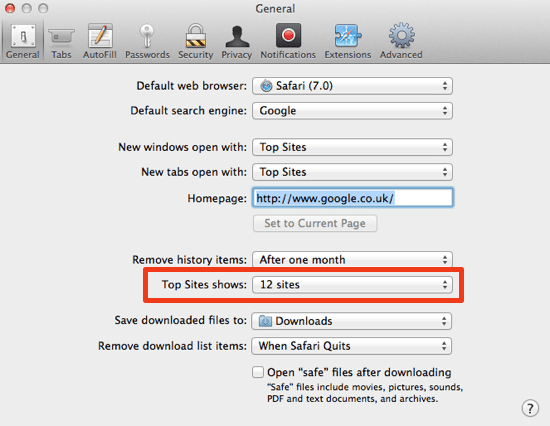 4. Plug-in Management
Safari 7 also gives you a bit more control over plug-ins, such as the ability to decide which websites can use them. This is particularly handy for Flash – whereas previously many Safari users installed plug-ins to block Flash, in the new version that functionality is built in automatically.
To manage Safari's plug-ins:
Open Preferences from the Safari menu (or use Cmd-comma)
Click on the Security tab and then hit the Manage Website Settings button

You can select any plug-in from the list in the left hand pane. On the right, for each website listed are several options – Ask, Block, Allow, and Allow Always, as well as an "unsafe mode" which gives open access (not recommended). There is also an option for websites not listed with the same choices. In the case of Flash, it's a particularly handy feature to block on most sites, except perhaps those like YouTube where Flash is an integral part of the experience.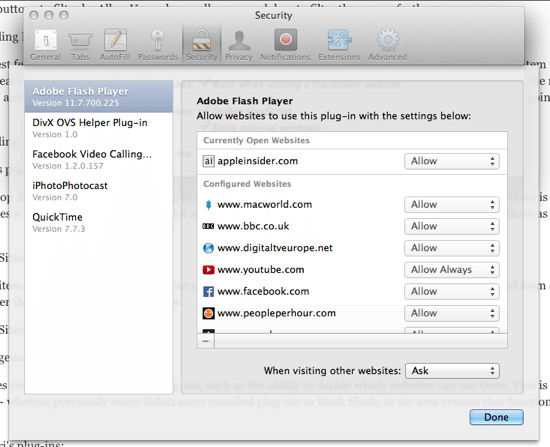 5. Integration with iCloud Keychain
Besides web form and password autofill, Safari is now more integrated with iCloud keychain (a new Mavericks feature which will be covered in a separate article). One benefit of this is that passwords and credit card information can be synced across all your devices, and automatically filled in when visiting websites. It's a small but very handy feature, saving you time instead of fumbling around for the relevant details.

6. Shared Links
Shared Links is a brand new feature in Safari 7. If you have signed into a Twitter or LinkedIn account (in the Internet Accounts setting in System Preferences) you'll see the Shared Links button appear in the Sidebar to the right of the Reading List). Basically it lets you quickly see all your LinkedIn and Twitter notifications and feeds in a single place, directly in Safari.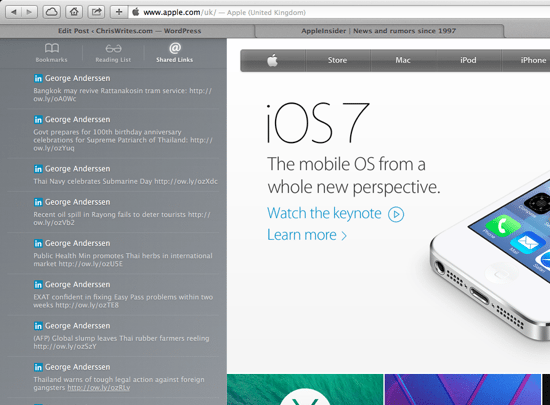 7. Website Alerts & Notifications
Safari also allows you to receive notifications from websites – for example suppose you wanted to follow a particular site, you can opt in to receive notifications in the same way you would receive them from other apps such as Mail, Calendar and so on. There is a new Notifications tab in Safari's preferences that let you manage which sites you want to receive notifications from. Unfortunately right now there aren't really any sites that have this functionality yet – but stay tuned for more details when Mavericks is officially released.
Before you go
After spending over 20 years working with Macs, both old and new, theres a tool I think would be useful to every Mac owner who is experiencing performance issues.
CleanMyMac is highest rated all-round cleaning app for the Mac, it can quickly diagnose and solve a whole plethora of common (but sometimes tedious to fix) issues at the click of a button. It also just happens to resolve many of the issues covered in the speed up section of this site, so Download CleanMyMac to get your Mac back up to speed today.