Apple surprised many people by announcing that the next version of Mac OS X (10.8) will be available around summer 2012. Continuing the big cat theme, the new release will be known simply as OS X Mountain Lion (the "Mac" moniker has been dropped from the OS, perhaps a hint that OS X could be used on other devices in the future. This harks back to when iPhone OS was rename iOS.), and will include hundreds of new and improved features.
The new OS continues to combine many of the very best features of iOS and unifies several applications with common user interfaces and synchronisation using the iCloud service. Mountain Lion is already available for registered developers to test, and Apple also made the uncharacteristic move of giving advance copies to selected journalists and technology sites. This has led to a slew of online reviews that compare every feature with the iOS counterparts.
Here are just a few of most hotly anticipated features we can expect to see in the new all-singing, all-dancing release.
---
---
1. Deep iCloud Integration
iCloud is featured heavily in Mountain Lion and is central to Apple's strategy to synchronise all sorts of content across multiple devices. You need to sign into the service with your Apple ID, after which it's set up automatically. iCloud really does make it easy to keep all your applications synchronised and can largely be forgotten about once it's setup and configured.
Applications such as Mail, Contacts, Calendar and so on all sync seamlessly when you use an iCloud account. Add a contact on your iPhone and it automatically appears on your Mac – there is no need to synchronise with iTunes or to enter details such as phone numbers manually on different devices.
Mountain Lion also includes the ability to store files and documents in iCloud accessible from the normal drop-down file save dialogs. These means you'll be able to keep documents in the cloud (provided you have enough storage) and synchronise them to all your devices – iPad, iPhone, Mac and iPod touch. The difference with Lion is that it's much more heavily integrated into the core OS, and should encourage people to start using it for documents, not just synchronising appointments, contacts and emails.
---
2. A New Notification Centre
Notification Centre lets you view application notifications and alerts in Mountain Lion. Much like its iOS counterpart, events such as new messages, FaceTime chats, emails and Game Centre requests all appear in a convenient list which occupies the right-hand side panel of your Mac's screen. Notifications appear onscreen for several seconds, and alerts can be clicked to reveal the full notification centre, which slides into view and slides away your desktop to the left.
It's also possible to use a 2 fingered swipe gesture from the right side of your trackpad to open up notification centre. The whole experience is similar to iOS 5 and is perhaps one of the most highly anticipated features in Mountain Lion.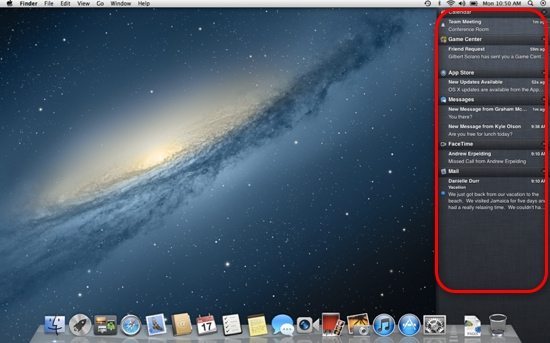 3. Unified Mountain Lion and iOS Apps
Many Mountain Lion applications now appear much more similar to their iOS counterparts, and Apple's intention is to try and unify all the application experiences across the different platforms. This makes it much more easy for users who are familiar with one device to use any other Apple devices.
---
Messages
Just like the Messages app on the iPhone, the Mountain Lion's Messages application lets you send unlimited iMessages to any user on the Mac, iPhone, iPad and iPod touch, as long as they are running iOS 5. The new messaging app now replaces iChat on the Mac, and makes it simple to send photos, videos, texts, contacts, attachments and even start a FaceTime video call. The nice thing about Messages is that it also supports other chat applications such as Yahoo Messenger, Google Talk, AIM and Jabber.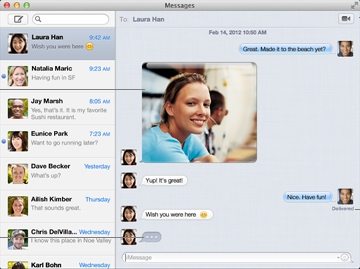 ---
Reminders
Reminders in Mountain Lion no longer appear in the calendar's sidebar but have their own dedicated app just like iOS. It's possible to create multiple categories (such as shopping, work, and so on) and set reminders at specific times – but one difference with the iOS version is that you can't create location-specific reminders, for example to alert you when you leave a specified location.
Every item you create can be automatically synced through iCloud, making it especially easy to keep the same lists on every Apple device you own.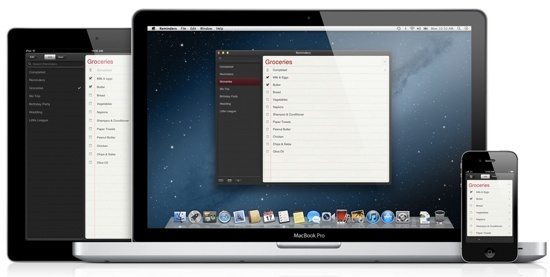 ---
Calendar
The new Calendar application replaces iCal on the Mac but it keeps the same controversial false leather design as Lion. Some people might be put off by the questionable choice of aesthetics but there is already a way to change the default iCal skin, so we hope this will also be possible in Mountain Lion.
There are some nice tweaks and subtle improvements in Mountain Lion's calendar, plus the Reminders has been completely removed into its own app. Once again, it's all kept nicely in sync through iCloud.
---
Notes
In Lion, notes are quite limited in terms of functionality and are used only in the Mail application (which is completely separate from Stickies which can be accessed in Dashboard). Notes in Mountain Lion have been given their own separate application (not available in Mail any more) and the notes themselves are much more flexible allowing rich text, pictures and other attachments.
Notes can also be pinned to the desktop to help you remember those all important ideas and random scribblings. As in the other apps, any notes you create are synchronised with all your Apple devices.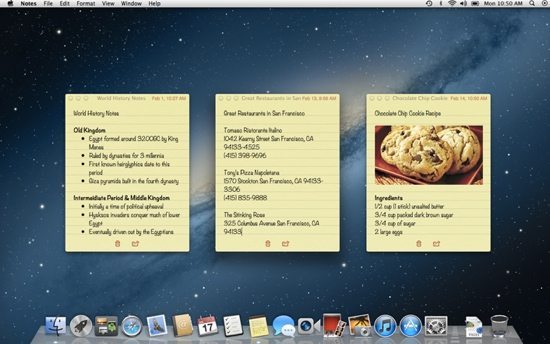 ---
4. Game Center
Game Center in iOS has been a huge hit and lets you keep scores and challenge friends to some of the very latest iOS games. Now Game Center comes to the Mac, and will open up lots of cross-platform games that can be played against friends no matter which platform you're on.
For example, you could start a multiplayer game on the Mac and play with a friend on an iPad or iPhone. The possibilities for gaming are endless, and it will be interesting to see how many games are developed that make use of the centralised Game Center experience.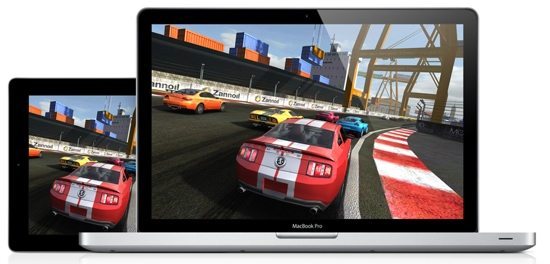 ---
5. Quick and Easy Sharing
Apple has added the new share sheets and integration with Twitter to many of Mountain Lion's native apps. For example, in Safari you can simply click the share button and send the page to Twitter or via email, and it's been built into many of the core applications. It's just a matter of time before developers implement the appropriate functionality and include this in their own apps too.
It's never been so easy to share content on the Mac, and it's context sensitive too. This means that you select a photo for example, there's an option to add it to iPhoto or Flickr. Share sheets are a welcome addition to Mountain Lion that make it a breeze to share content from the relevant application. There's no Facebook option yet, however.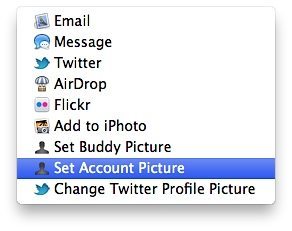 ---
Before you go
After spending over 20 years working with Macs, both old and new, theres a tool I think would be useful to every Mac owner who is experiencing performance issues.
CleanMyMac is highest rated all-round cleaning app for the Mac, it can quickly diagnose and solve a whole plethora of common (but sometimes tedious to fix) issues at the click of a button. It also just happens to resolve many of the issues covered in the speed up section of this site, so Download CleanMyMac to get your Mac back up to speed today.