So you've mastered the fine art of keyboard shortcuts in Mac OS X, but you want to make your own, or alter existing ones; how do you do it? Or maybe you're used to a certain keyboard shortcut that isn't available anymore, or has switched to something else, and you want to change it back.
This easy step-by-step tutorial will help guide you through this process. Don't worry it's pretty simple!

1) The first thing you'll need to do is locate the Keyboard preferences in your computer's System Preferences (indicated here by the red arrow).

2) Now this next step is optional. For this example, let's say you're used to using the F12 key as a custom function. However, the Apple keyboard doesn't allow you to set F12 as a function because it raises the volume. If you're looking to change the properties of they keys ranging from F1 to F4, and/or from F7 to 12, you will need to make sure the "Use all F1, F2, etc. keys as standard function keys" is checked. If you're not doing anything with the F keys, you can ignore this step.

3) Now this next part is totally up to you, and depends on your specific needs. In this example, we're looking to change the properties of the F12 key system wide. We want the function to be operational when using any application. So, in this case, we would select "Application Shortcuts". You can see all of your other options listed below, so feel free to explore them and see what you can do.

4) Once you have the option highlighted, you will then have to select the "+" icon to add your shortcut. Once you've done that, a window will appear asking you to select the Application, Menu Title and Keyboard Shortcut.
5) It is important to note that when you're inputting the Menu Title, it must match exactly the command you're trying to change. For example, lets say you want F12 to quit Calculator In this example; you must type Quit Calculator in the Menu Title field.

6) Once you've clicked "Add", the function will become operational immediately, and you'll be able to see your changes once you use Calculator's File menu as seen here: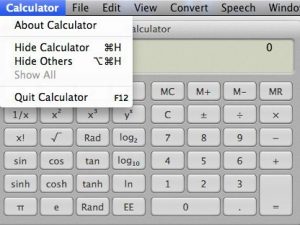 Notes: A couple other things to keep in mind: you must make sure that the function you select isn't being used by something else. In this example, F12 will actually show the Dashboard, so you'll have to disable or remove that shortcut before your new one will work.
Also, the shortcut to Quit is actually Application specific. You will not be able to change the command to Quit by selecting "All Applications". Since the menu command to quit changes based on what application you're in, you would need to change it for every single application. In other words, Quit Calculator is one keyboard shortcut and Quit Address Book is another. These must be entered separately. For most shortcuts, this won't be an issue.
So that's it! You've successfully customized a keyboard shortcut! Feel free to play around and customize other shortcuts to your liking.
Before you go
After spending over 20 years working with Macs, both old and new, theres a tool I think would be useful to every Mac owner who is experiencing performance issues.
CleanMyMac is highest rated all-round cleaning app for the Mac, it can quickly diagnose and solve a whole plethora of common (but sometimes tedious to fix) issues at the click of a button. It also just happens to resolve many of the issues covered in the speed up section of this site, so Download CleanMyMac to get your Mac back up to speed today.