The thought of someone watching you through your webcam may sound like something straight out of a spy novel, but there's plenty of evidence to suggest that it's possible to remotely activate a webcam – often, without even activating that webcam's LED!
The most effective way to prevent someone from turning your webcam against you, is to physically cover your webcam. Even the world's most sophisticated hacker is going to struggle to peek through a webcam that's sealed with sticky tape. However, maybe you don't want to spoil your Mac's sleek, sophisticated look with something as crude as sticky tape, or perhaps you're borrowing the Mac in question, and are worried about damaging its casing.
If you're not too keen on the idea of covering your webcam physically, then you can secure it using a range of third party tools.
In this article, I'll show you how to use the Parallels Toolbox app, to prevent other apps from turning your Mac's built-in webcam against you.
---
Block your webcam
Parallels Toolbox has a long list of features that are worth exploring in detail, but in this article we'll be focusing on the Block Camera function, which prevents any application from accessing your camera, and displays a notification every time an app does attempt to activate your webcam.
Parallels Toolbox is priced at £15.99, although a 7 day free trial is available, so you can see whether this app is right for you before splashing out.
To setup Parallels Toolbox:
Head over to the Parallels Toolbox page.
Select 'Try free for 7 days' and then select whether you want to download the Windows version, or the Mac version.
Once the tool has downloaded, launch the resulting .dmg file and follow the onscreen instructions to install.
When prompted, select 'Try free for 7 days.'
A new Parallels Toolbox icon will appear in your Mac's menu bar. If you don't see this icon, then try restarting your Mac.
To block your Mac's webcam:
Select the Parallels Toolbox icon from your Mac's menu bar.

Choose 'Camera.'
Click 'Block camera.'
The first time you activate this feature, you may need to restart your Mac. If Parallels Toolbox asks you to restart, then make sure you don't have any unsaved work, and then click 'Proceed.'
Restart any applications that were using the webcam.
If you want to re-enable your Mac's webcam at any point, then select the Parallels Toolbox icon and click the 'Block Camera' button once more.
No software is 100% immune from attacks!
Even though software can make it more difficult for hackers to gain access to your webcam, the only way to guarantee that no-one is spying on you, is to physically cover the webcam lens.
If you're going to rely on software rather than sticky tape, then it's recommended that you use Parallels Toolbox alongside some additional software and settings.
Get notified whenever an app attempts to access your webcam
OverSight is a free application that monitors your Mac's webcam and microphone, and will notify you whenever an application attempts to gain access to either of these. OverSight can also identify malware that may attempt to hijack your webcam by "piggybacking" on a trusted service, such as FaceTime or Skype.
Setup parental controls
If any children use your Mac, then you may want to use Parental Controls to disable the webcam for their user accounts:
Select the 'Apple' logo from your Mac's menu bar.
Navigate to 'System Preferences… > Parental Controls.'
Select the user account from the left hand menu.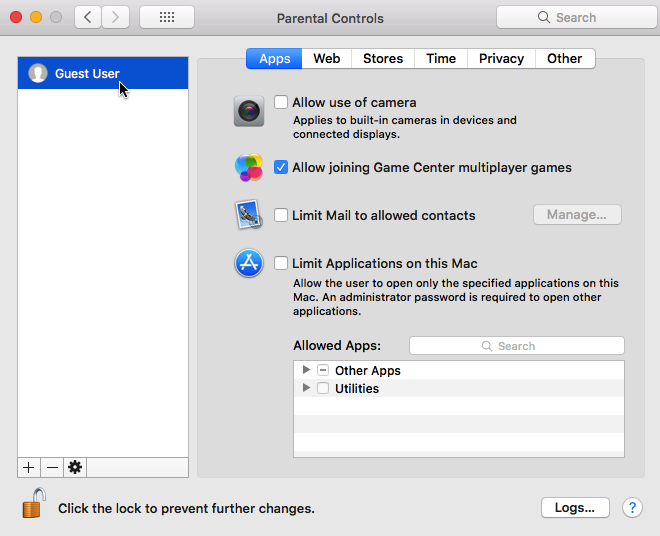 Make sure the 'Apps' tab is selected, and then deselect the 'Allow use of camera' checkbox.
Before you go
After spending over 20 years working with Macs, both old and new, theres a tool I think would be useful to every Mac owner who is experiencing performance issues.
CleanMyMac is highest rated all-round cleaning app for the Mac, it can quickly diagnose and solve a whole plethora of common (but sometimes tedious to fix) issues at the click of a button. It also just happens to resolve many of the issues covered in the speed up section of this site, so Download CleanMyMac to get your Mac back up to speed today.