For many of us, the amount of personal information companies have access to is a huge and growing concern – but did you know that you can download all of your Apple account data?
Depending on how you use Apple's various products and services, this data can range from your AppleCare support history, to your purchasing activity, right through to your history of opening, deleting and responding to Apple's marketing emails – potentially spanning years.
Reading through your account data can provide a valuable insight into how companies gather data about their customers – and really shows just how detailed and obscure some of that information can be! After downloading my own Apple account data, I've learnt that in 2013 I apparently opened an email with the subject line "iPhone 5C 5S Availability," on a smartphone running Android 4.2.2!
Maybe the results will be less frightening, or even worse than you anticipated, but taking a long, hard look at all the information Apple have gleaned from your account is fascinating, and can make you more mindful of the information you share with organisations such as Apple in the future.
Ready to see yourself through Apple's eyes? In this article, I'll show you how to request and download all of your Apple account data.
---
What will my download include?
You'll receive your Apple account data as a series of downloads. The number, and contents of these downloads can vary dramatically depending on the Apple apps and services you use, and how frequently you use them. However, as a general rule, you should expect to receive some, or all of the following:
JSON, CSV, XML or PDF files, containing information about your app usage and activity.
All the documents, photos and videos you've stored in Apple services such as iCloud, sent to you in their original format.
VCF, ICS, or HTML files, containing your Contacts, Calendar and bookmarks.
Your Apple account data will not include any of your App, book, TV show, movie or music purchases.
Requesting your information from Apple
To retrieve your personal information:
Head over to Apple's Data and Privacy page.
When prompted, log in with your Apple ID and password.
Answer your security questions, and then click "Continue."
Select "Request a copy of your data."
Select the data you'd like to receive, which may range from Game Centre activity, to your iCloud reading list, and Apple's marketing communications. If you want to see everything that's linked to your Apple account, then click "Select all."
When you're happy with your choices, click "Continue."
Choose the maximum file size that's convenient for you to download. Note that Apple may divide your data into several files of this size or smaller, depending on the options you've chosen and your maximum file size. You can choose between 1GB and 25GB.
Once you're happy with your selection, click "Complete request."
Apple will now process your request, which may take up to seven days. When your data is ready, Apple will send an email to the address associated with your Apple ID. You can check the status of your request at any time, at Apple's Data and Privacy page.
Downloading your data
Once you receive a "Your download is ready" email, you're ready to take a look at your data:
Your email should contain a "Get your data" link; select it.
When prompted, enter your Apple ID and password.
Answer your security questions.
You should now be taken to a screen containing all the available packages of data; find the package that you want to view and then click its accompanying "Download" icon.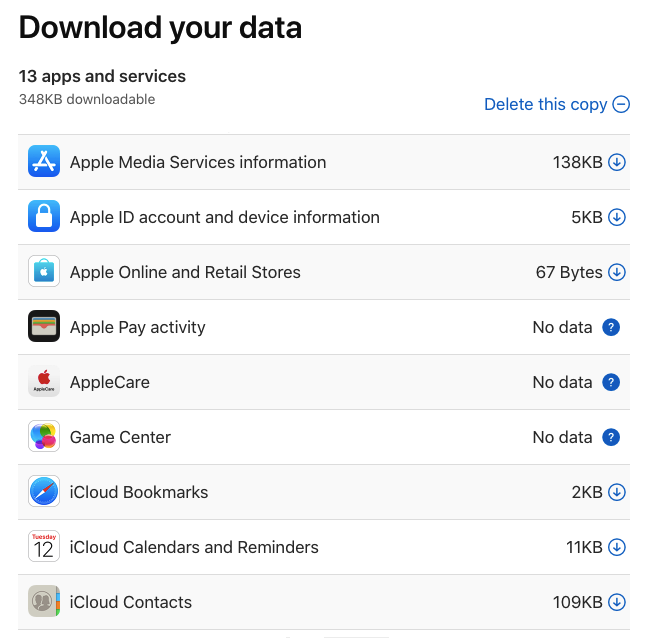 Each package will be downloaded as a ZIP file; unzip each file and spend some time exploring its contents.
Rinse and repeat for every package that you want to view.
Before you go
After spending over 20 years working with Macs, both old and new, theres a tool I think would be useful to every Mac owner who is experiencing performance issues.
CleanMyMac is highest rated all-round cleaning app for the Mac, it can quickly diagnose and solve a whole plethora of common (but sometimes tedious to fix) issues at the click of a button. It also just happens to resolve many of the issues covered in the speed up section of this site, so Download CleanMyMac to get your Mac back up to speed today.