Apple has enabled developers to create apps that also include "Widget" extensions which populate the Today screen section of the Notification Centre on your Mac.
In the past, the Notification centre wasn't really that useful, but now it's much more closely aligned with the iOS version because all your important information is displayed, in addition to any custom apps that you want to include.

---
How to choose widgets
Before we list our favourite widgets, here's a quick recap of how to choose which ones you want to see.
First of all, slide the Notification Centre out from the side of your screen by using two fingers on the trackpad – just swipe from off the right edge (if you have kept the default gestures) towards the centre, and the Today screen should appear as shown below.
Then tap on the Edit button, which I have highlighted in red in the screenshot below.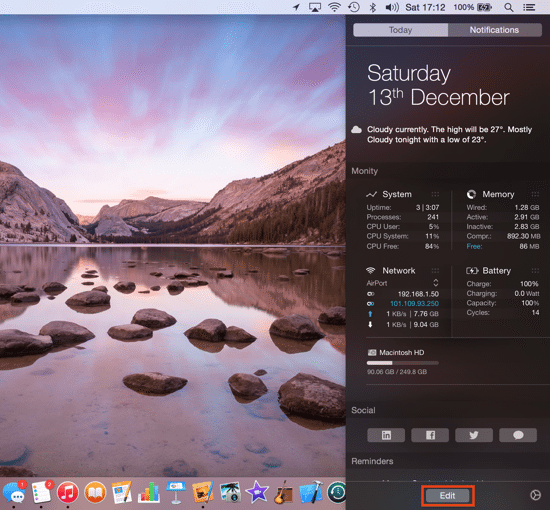 Once you have clicked Edit the list of installed widgets is shown on the right hand side. Use the green "+" button to add items from the right into the main list, and use the little grab handles (horizontal bars to the right of the widget's title) to rearrange them up or down as you wish. You will notice that there are some built-in widgets already populated, such as Reminders, Weather and Social.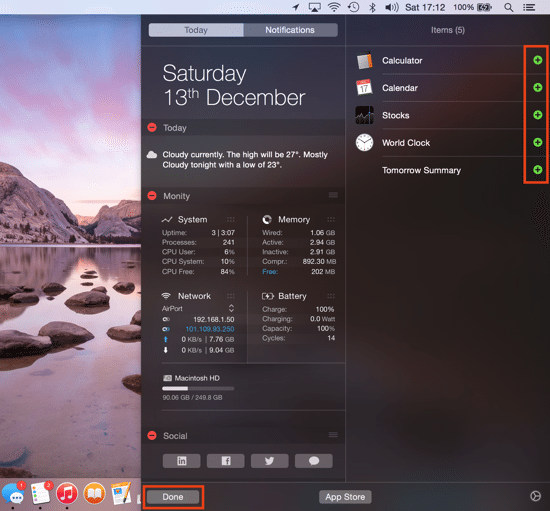 Likewise, you can remove any widgets from the list by using the red "-" button. Note that this doesn't actually uninstall the items from your computer, as they'll just stay in the unused list until you add them again.
Once you are finished, either click the Done button or just slide the Notification Centre back in again (which has the same effect).
Once installed, Notification Centre widgets appear in your apps folder and also in Launchpad, so you can manually uninstall them just like a normal app if you want to.
The best Notification Centre widgets
There's already a small but growing decent selection of widgets available on the App Store for Yosemite, so here's our rundown (in no particular order) of the best ones…
1. Monity
£1.49 on the App Store, by Lukasz Kulis.
Monity is a system monitor tool that that provides important at-a-glance system information in categories such as System, Memory, Network and Battery. Installation is very quick, and the main app launches with instructions showing how to enable it (similar to I have already described above).
For anyone that prefers not to have System Monitor open all the time and doesn't like the old style system monitoring tools that would place an icon in your menu bar, it's incredibly useful to have all the stats available right in Notification Centre. When using apps in full screen mode, it's also handy just to be able to slide out the Today screen to view the info.
Once you've opened Notification centre to view Monity, you can also click on the "i" information button and choose which categories you want to show (and the order), then click Done to proceed: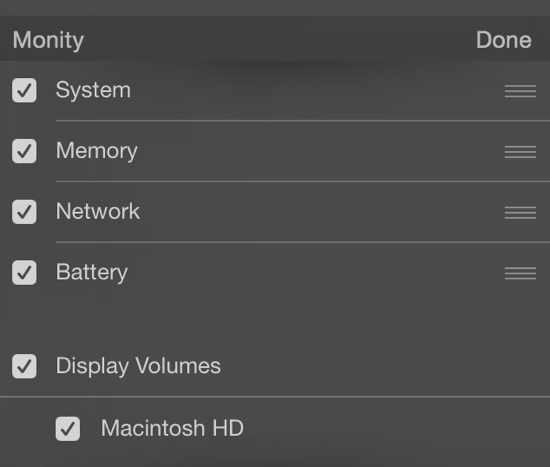 The app can also be launched in standalone mode too, as shown below. It's essentially the same information, so in our view it's more convenient to use the app solely within Notification Centre.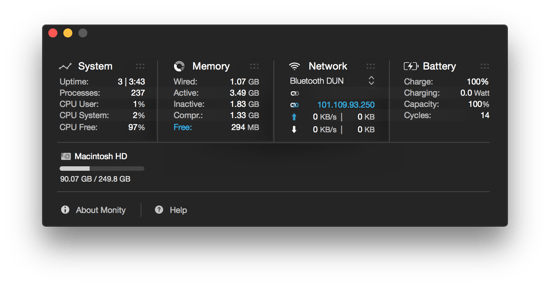 Note that there is a similar app in the App Store called iStat Mini, but it doesn't have nearly as detailed system data, and some users have complained that it's inaccurate. Currently, we prefer Monity due to the extent of information available.
---
2. Deliveries
£2.99 on the App Store, by Junecloud.
Deliveries is a really convenient app to track all of your packages – something that is particularly useful around Christmas time when you might be waiting for delivery of lots of items.
Deliveries is a proper, standalone app as well as a Widget, and it displays a summary of all your shipments and also counts down the days. You can select specific items and track them (on a map), or just view the shipping company's web page.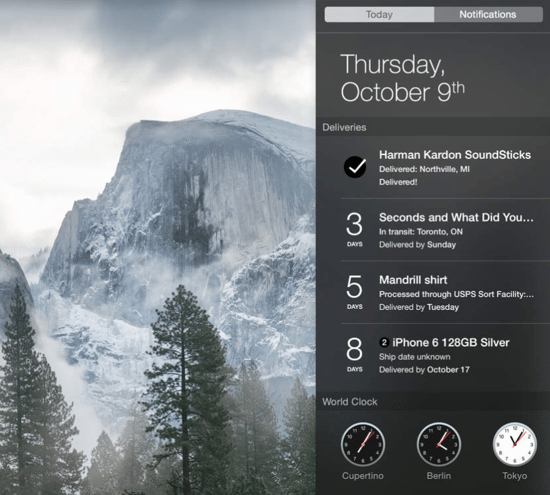 Thankfully, all the main delivery services are support – such as UPS, DHL, FedEx, Royal Mail and many more – note that not all of these are supported in every country.
The Notification Centre widget presents a very nice summary of each item, and the whole thing synchronises using iCloud to the iPhone and iPad apps, if you have them installed.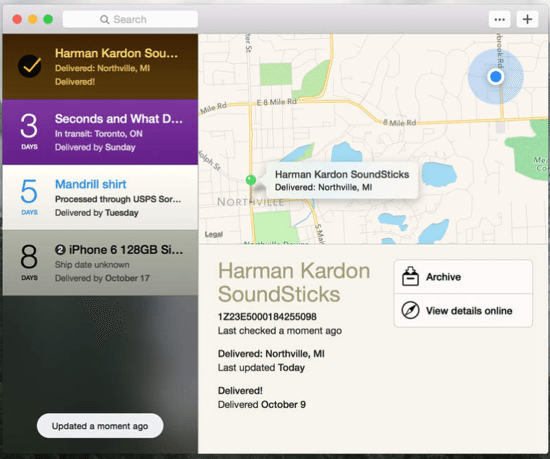 There is another Widget called Parcel – Delivery Tracking in the App Store. It offers similar functionality but is free (with options to add push notifications as an in-app purchase), but in our view Deliveries is the better app as it has maps built in and the interface is more attractive.
---
3. Battery Diag
£FREE on the App Store, by Rocky Sand Studio.
For anyone that has a MacBook Air or MacBook Pro, it's always useful being able to monitor your battery status and health. Battery Diag is one of those apps that provides a very useful summary and can be accessed from the menu bar.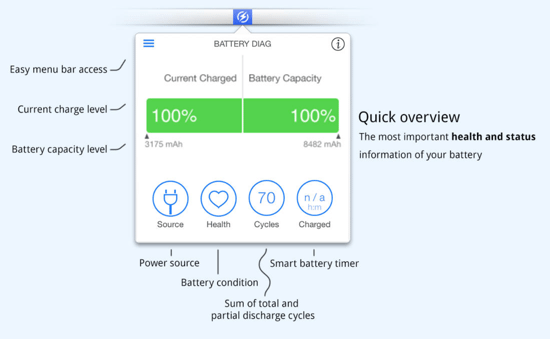 There is a quick battery overview with a very well designed panel with important health and status information concerning your battery, such as the charge percent and time in the menu bar, as well as several different themes.
Besides the menu bar app itself, it's all shown in the Notification Centre as well, so it's quickly accessible even when you're in full screen apps.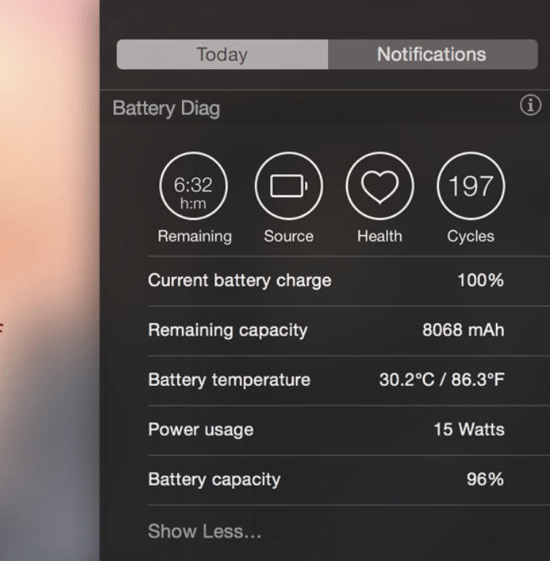 ---
4. Wunderlist
£FREE (offers in-app purchases) on the App Store, by 6 Wunderkinder.
Wunderlist is basically a list manager for almost anything from shopping lists to your Christmas presents. The great thing about the app is how quickly and seamlessly any changes you make are synchronised with all your other devices – it's all very snappy indeed.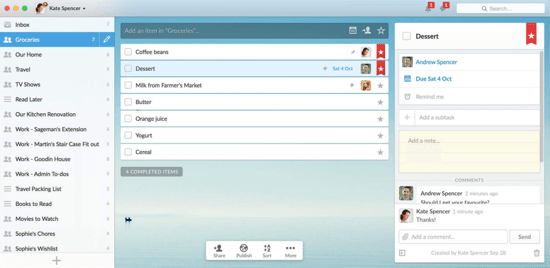 When you open the Mac, there's a 2-column user interface with a list of tasks shown on the left, and a to-do list on the right side, which shows all the items associated with the tasks you've selected.
There are also some built-in default lists which can be configured in the Preferences section, such as Today, Completed, and several more. You might think that Apple's own Reminders app is good enough, but once you've tried Wunderlist you'll wonder how you ever managed without it.
All these lists and activities are nicely displayed in Notification Centre, as shown below.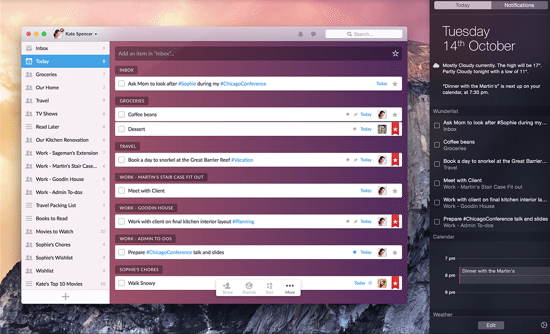 ---
5. Exchange Rates
£1.99 on the App Store, by Alexander Lindenstruth.
If you're anything like us, having quick access to the latest exchange rates is always useful when you're filling in expenses claims or just want to know the best rates before you travel abroad. There are so many websites out there (such as xe.com) that it's sometimes hard to know what to use, and sometimes you just want a simple list of the rates you're interested in.
The whole concept of the app is to be a simple currency calculator that stays in the menu bar – always available and always up to date. Everything can be done with keyboard shortcuts, so you can easily convert between currencies without launching another application.
Your favourite currencies, once configured in the app, can be added to Notification Centre so that they're always just a swipe away.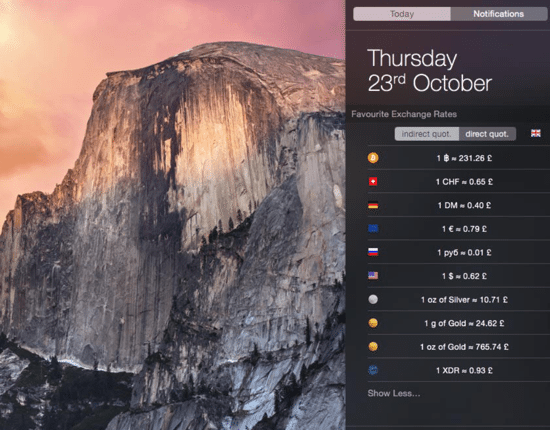 Before you go
After spending over 20 years working with Macs, both old and new, theres a tool I think would be useful to every Mac owner who is experiencing performance issues.
CleanMyMac is highest rated all-round cleaning app for the Mac, it can quickly diagnose and solve a whole plethora of common (but sometimes tedious to fix) issues at the click of a button. It also just happens to resolve many of the issues covered in the speed up section of this site, so Download CleanMyMac to get your Mac back up to speed today.