We might be living in the advanced technological age of email and the Internet, but there was a time when the fax was one of the essential items of any office. Nowadays, it's still sometimes necessary to send documents by fax, but the vast majority of people don't have access to a fax machine unless it's already built into your printer. And who wants to go out and find an Internet café when it's pouring with rain?

The following apps (which are all available in the UK Mac App Store) can be used to send faxes easily and quickly from your computer.
---
---
1. FaxDocument
Links: Apple website, FaxDocument website
Price: Free
FaxDocument lets you send faxes conveniently from your Mac via a simple drag and drop interface. The app itself is free but in-app purchases are necessary to be able to send faxes. Fax credits can be bought for £13.99 or £20.99 for unlimited faxes for 25 or 50 different numbers respectively, and faxes can be sent to over 40 countries including the USA, Australia, much of Europe and the UK. The best bit is that the cost is a one off charge and not a subscription, so it represents quite good value for money if you intend to send lots of faxes to a small group of numbers.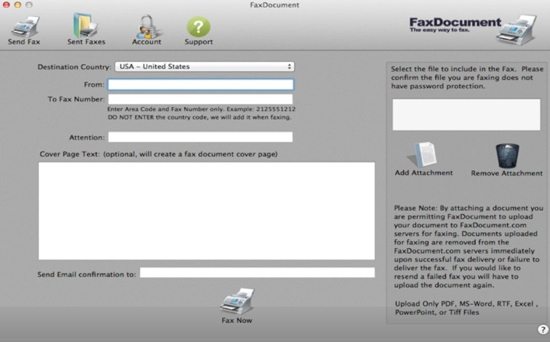 ---
2. FaxFresh
Links: Apple website, FaxFresh website
Price: Free
The FaxFresh app is almost identical to the web-based FaxFresh web service. The cost is identical, but it's rather more convenient to have a dedicated application. Up to 8 pages costs just $1.99 and extra pages are just 25 US cents. More than 100 countries are supported such as Europe, Australia, Japan and the US. Both the website and the app allow you upload documents in PDF format only.
The service also includes email confirmation that lets you know whether the fax was received, and you won't be charged for unsuccessful transactions. So what are you waiting for? Get faxing!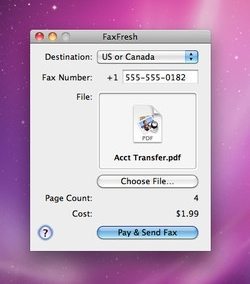 ---
3. Sipgate Faxprinter
Links: Apple website, Sipgate website
Price: Free
You can't get much simpler than the sipgate Faxprinter. Just drag and drop any PDF document onto the main fax window, enter the number and hit the send button. You need to create an account on the sipgate website first, however. The nice thing about this utility is that it also appears as a printer, meaning that you can "print" to send a fax from any application's Print menu. When you choose to print to the app, a pop-up window opens where you enter the desired fax number.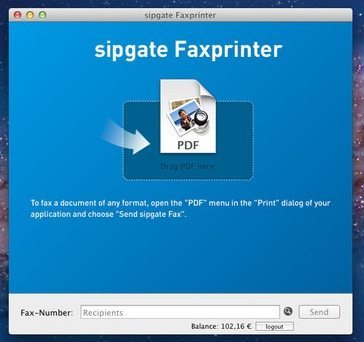 ---
4. Instant Fax Cover
Links: Apple website, Instant Fax Cover website
Price: £2.99
As the name suggests, Instant Fax Cover is a utility to generate fax covers; it does not however let you send faxes. Nevertheless, it's a handy little app that's great if you want to produce good-looking fax covers.
Most people tend to scribble something by hand or open a word processor to produce fax cover sheets (note however that there are many templates that you can download for Pages on the Mac and Word on the PC). However, Instant Fax Cover does produce professional results and it saves previously printed covers so you can reuse them later on.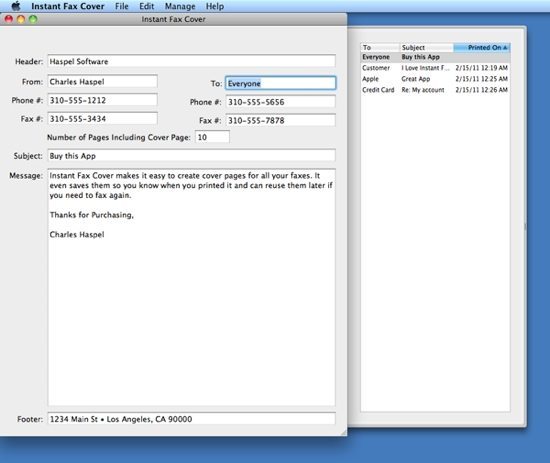 ---
5. Simple-fax.de
Links: Apple website
Price: Free
Unfortunately, the Simple-fax.de app is in German (so we're not sure why it appears in the UK App Store!). However, with a little patience and thanks to the magic of Google Translate, it's actually quite easy to install and use this little app.
Just like most of the other apps mentioned, it lets you send faxes from your Mac and can be accessed from the Print menu in any application – it appears to Mac OS as a normal printer. The cost to send faxes is 6 Euro cents, and you need to sign up and create an account with Simple-fax. Thankfully, the user interface does contain English, so once it's installed you should have no problem using it.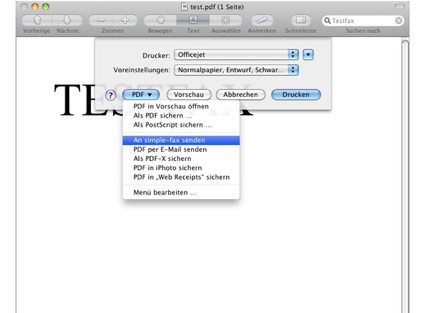 Before you go
After spending over 20 years working with Macs, both old and new, theres a tool I think would be useful to every Mac owner who is experiencing performance issues.
CleanMyMac is highest rated all-round cleaning app for the Mac, it can quickly diagnose and solve a whole plethora of common (but sometimes tedious to fix) issues at the click of a button. It also just happens to resolve many of the issues covered in the speed up section of this site, so Download CleanMyMac to get your Mac back up to speed today.