Even though viruses thankfully aren't very common on the Mac, from time to time there are some legitimate threats which could compromise the security and performance of your computer. The recent spread of the Flashback trojan proves that the Mac isn't necessarily as invulnerable as we Mac users may think. Therefore, it's probably a good idea to have some kind of anti-virus software on your Mac, even if you don't have it running in real-time mode at least you can run a scan occasionally to check for any infections.

Arguably, using a Mac is somewhat safer than a PC, perhaps because virus writers target the much larger installed user based of PC's, or perhaps due to better security on the Mac. Whatever the reason, it's an undeniable fact that there aren't nearly as many active viruses targeting Mac OS X compared with Windows, but it's certainly wise to be aware of the dangers.
Here are some of the best completely free anti-virus apps for the Mac, most of which are available from the App Store.
---
---
1. Avast! Free Antivirus
Details: developer website
This free product includes several levels of protection, including on-demand scanning, web shield, mail shield, and file shield. You can do a full system scan or choose network volumes, removable volumes or local volumes only, plus a custom scan of any folders and files. Furthermore, there are plug-ins for Safari, Firefox and Chrome to help you stay even more secure while browsing the web. The plug-in provides a rating for each site, as well as lets you vote whether the site is trustworthy and what type of content it provides.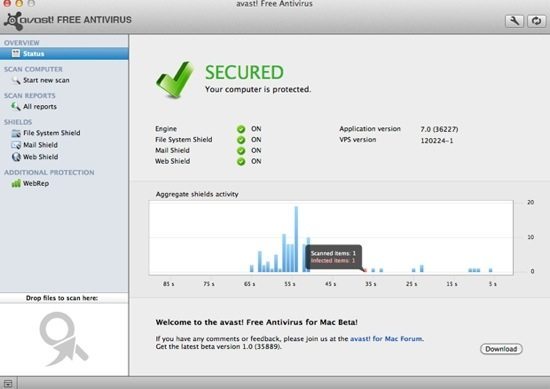 ---
2. ClamXav
Details: Apple website, developer website
ClamXav is built upon the open source ClamAV project as a graphical front end. It's completely free and relies on donations only to fund the developers. The application itself lets you scan your Mac's folders and files, either from the app or just right-click on an item and select scan with ClamXav. There are also plenty of options, such as the ability to choose a quarantine folder to move suspect items to, as well as run scheduled scans at the time of your choosing. Virus definitions are updated daily.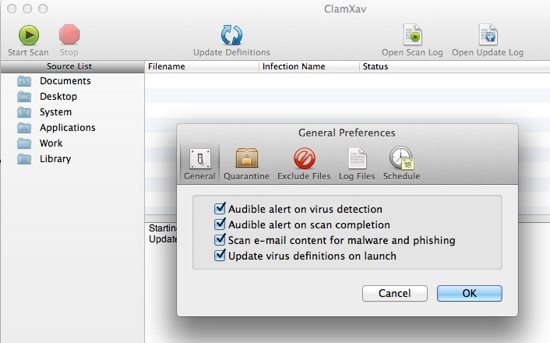 ---
3. Dr.Web Light
Details: Apple website, developer website
Dr.Web is a Russian firm responsible for discovering the Flashback trojan, and as such they have a lot of experience with viruses on the Mac. Their popular products include Dr. Web Anti-virus Pro which has more features such as a personal firewall and anti-spam filters, but the Light version includes basic protection for free. The application has all the usual features such as virus definition updates, scheduled run times, and a special quarantine folder to isolate suspicious files, in addition to on-demand scans of your files and folders.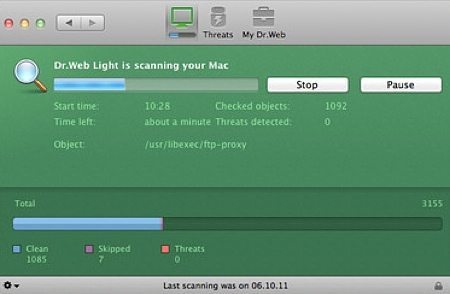 ---
4. Sophos Anti-Virus For Mac Home Edition
Details: developer website
Sophos released the first version of its anti-virus solution for the Mac a couple of years ago, and they've attracted quite a lot of positive reviews in the process. They're primarily concerned with selling professional anti-virus software to businesses, but in a bid to become more well known, they've released this free version for the Mac. One of its key strengths is that it also targets Windows threats that might be resident on your Mac, meaning that you won't pass on infected files to anyone else. Scan files on-demand or stick to a schedule, to make sure your Mac stays healthy and virus-free.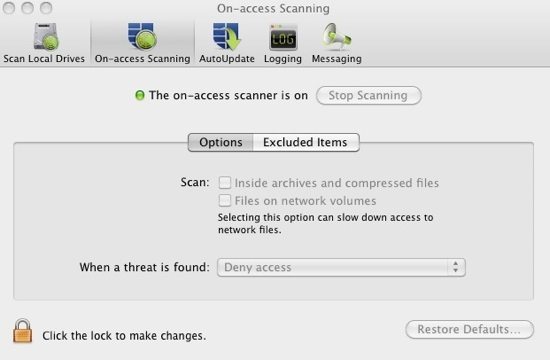 ---
5. VirusBarrier Express
Details: Apple website, developer website
VirusBarrier Express is based on the same technology used by Intego's other products such as VirusBarrier X6, and as such is able to find and eliminate viruses, trojans and other malware automatically. There's a wealth of scan options such as quick or full scans, scheduled and on-demand scans, and regular updates to the virus definitions. Performance is supposedly quite good and your Mac shouldn't suffer while it runs. There's also a paid-for version which includes additional features – such as the ability to target Windows executables, Flash malware, malevolent scripts and pesky key-loggers.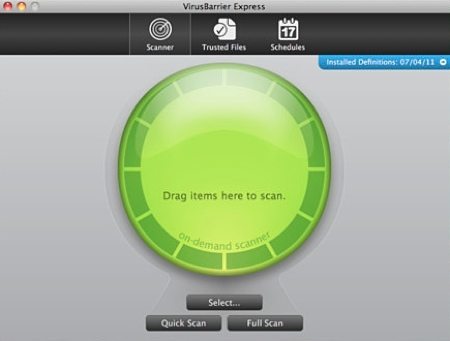 Before you go
After spending over 20 years working with Macs, both old and new, theres a tool I think would be useful to every Mac owner who is experiencing performance issues.
CleanMyMac is highest rated all-round cleaning app for the Mac, it can quickly diagnose and solve a whole plethora of common (but sometimes tedious to fix) issues at the click of a button. It also just happens to resolve many of the issues covered in the speed up section of this site, so Download CleanMyMac to get your Mac back up to speed today.